Anton and Snizhana, a Russian-Ukrainian couple facing war together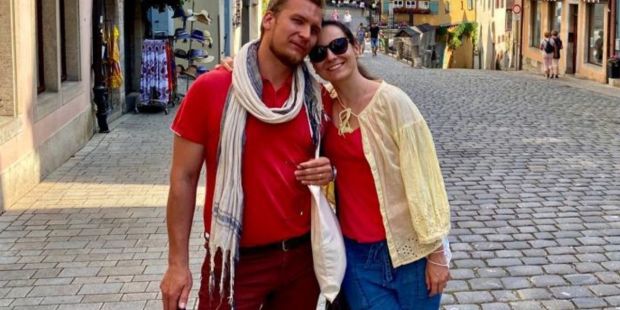 Married in 2016, the couple pray and help raise funds, but wish they could do more to foster peace.
It was 7 a.m. on February 24 when Anton, who was traveling abroad on business, woke up to learn that Russia had launched an attack on Ukraine. "I received a message from a friend of mine saying that kyiv was being bombed. I immediately turned on the TV and saw shocking images," the 37-year-old Belarusian, whose parents live in Russia, told Aleteia.
Hundreds of miles away, his wife, Snizhana, slept peacefully unaware that her hometown was under shelling. "My father called me at 5:59 in the morning. I was very tired, so I thought I would answer him later. And when I woke up an hour later, I saw dozens of calls from my family and especially the message from my husband: 'My God, I can't believe this is happening'", says the young lady. "Since then, it's been like living in hell," says Anton.
So different and close at the same time
Their love story began in 2012, in Greece. The two had gone there to study Greek during their summer holidays. Quickly, their relationship evolved, even if at the beginning it was at a distance. Anton lived in France, where he studied at the St. Sergius Orthodox Theological Institute in Paris, while Snizhana completed his law studies in kyiv.
When a conflict broke out in 2014 between Russia and Ukraine, the couple broached the subject of a possible war between their two countries. "We had a similar point of view on this conflict. I don't think we would be together right now if at the time we had very different views on the subject. Also, I always saw Anton as a Belarusian and not a Russian," even though he has a Russian passport, Snizhana told Aleteia.
"When I came to visit Snizhana in Kyiv in 2014, I attended Maidan. I spoke Russian in Kyiv, without anyone telling me about it. I was also watching my Russian shows on TV. I started to realize that what I saw in Kyiv and what I saw in the Russian media were totally different, so I started asking myself questions," says Anton. But the couple, married since 2016 and currently living in Paris, had no idea that a bloody war would break out between the two countries eight years later.
"I immediately felt ashamed of what was happening," admits Anton. "I grew up in Belarus and I always saw Ukraine and Russia as neighbours, close neighbors but a little different from me. I never thought that one day missiles would be launched from the periphery from my hometown in Belarus to kyiv.
A strong desire to help
Today, the couple say they are more united than ever and are worried about their loved ones both in Ukraine and in Russia. "My father didn't want to leave Kyiv, even though he's old enough to do so. He wants to fight for his country. My mother is in Lviv with my grandmother. She doesn't want to leave Ukraine either," Snizhana told Aleteia.
Anton, who fears for his in-laws, is also worried about his parents, who live in Tver and are already suffering from international sanctions against Russia. "I don't know what to do or how to help them. They don't think about leaving the country because it's their home. I'm really scared for them."
Despite this, he says he is "in favor of sanctions". "I think, maybe naively, that's one of the things that can help put Vladimir Putin back down. It's important to understand that the whole problem is with him. He doesn't represent all of Russia. Today today, the Ukrainian people are also fighting for the future freedom of Russia," says Anton.
Until the Russian invasion began, Anton and Snizhana planned to move to their new apartment. Today, when they see how people suffer under the bombs, these daily problems seem quite trivial. Even if they actively participate in various collections for Ukraine and pray to the Lord for the end of the war, this seems to them "insufficient". "We want to do more, go out there and help people," they say.
While they both continue to speak their respective languages ​​at home – Snizhana addresses Anton in Ukrainian and Anton answers him in Russian – both know that once the war is over, it will take a long time for both peoples to rebuild. a new relationship. "What is certain is that this page of history will remain forever etched in our memories," concludes Snizhana.