Donetsk region Selydove hit with Russian Smerch MLRS and S-300 missile systems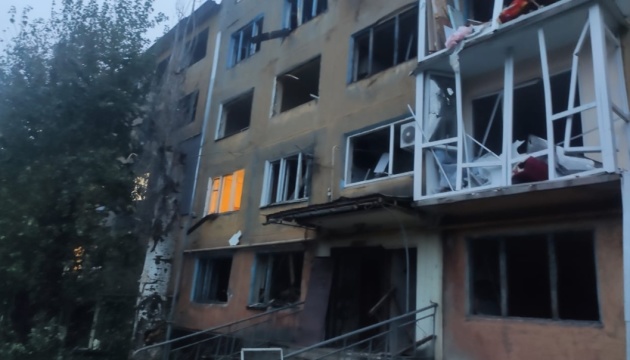 In the Donetsk region, Russian troops shelled settlements along the entire front line last night. In Selydove, more than 30 apartment buildings were damaged, along with a local school, gymnasium and kindergarten. Civilian casualties have been reported.
The relevant statement was made by the head of the Donetsk regional military administration, Pavlo Kyrylenko, the Facebookreports a correspondent of Ukrinform.
"Last night the Russians were shelling settlements all along the front line in the Pokrovsk district and the Bakhmut district. In the middle of the night they hit Selydove with Smerch Multiple Launch Rocket Systems (MLRS) and S-300 missile systems. One civilian was reportedly killed and five injured. Enemy projectiles damaged 32 buildings, a school, a gymnasium and a kindergarten," Kyrylenko wrote.
In Marinka community, Russian troops launched artillery strikes on Marinka, Krasnohorivka, Novomykhailivka and Heorhiivka. No casualties or destruction were reported.
In Avdiivka, the Russian invaders again opened heavy fire on the central part of the city with artillery. According to preliminary data, no casualties were reported.
In Bakhmut district, there were no casualties last night, but some destruction was reported. Around 00:00 (midnight), Toretsk came under enemy fire. The Russian projectile hit a vacant lot, but the windows and roofs of adjacent buildings were damaged by a shock wave. Explosions were also heard in Pivnichne.
In Paraskoviivka, in the community of Soledar, one dwelling house was destroyed and five others damaged.
mk