Pro-Russian forces say they have recaptured the fortified area from Ukrainian forces in Luhansk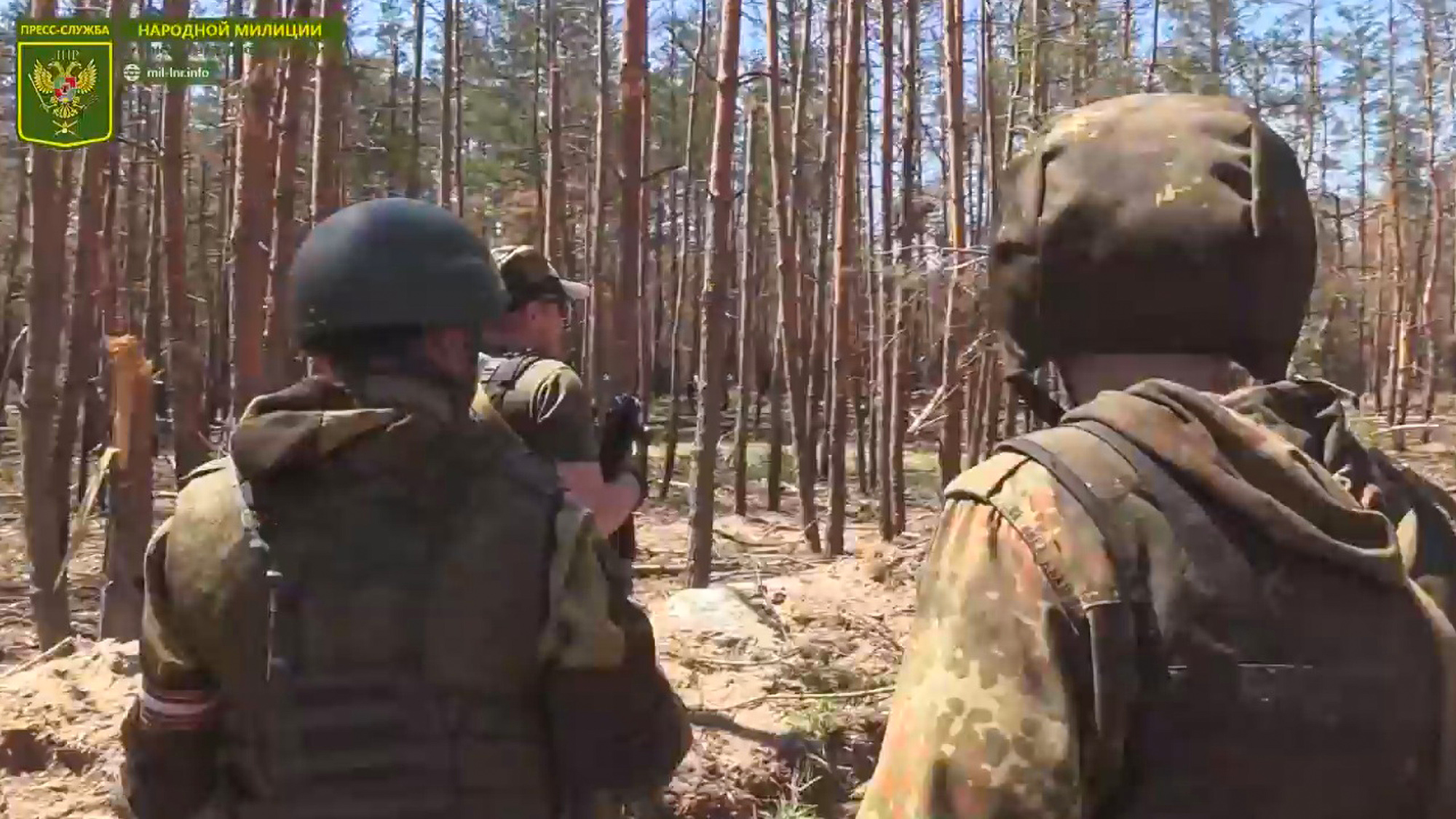 The so-called Luhansk People's Republic claims to have recaptured a fortified area from Ukrainian forces in the east of the country.
Footage was obtained of the so-called breakaway, pro-Russian Lugansk People's Republic (LPR), which is recognized by Russia as a sovereign state but is unrecognized by the vast majority of the international community.
The LPR said Tuesday morning that its People's Militia, "together with allied forces, recaptured the Nazi fortified area near Borovskoye." Borovskoye is a city in Ukraine located south of the Voronove settlement, located in the region of Lugansk Oblast in eastern Ukraine.
Footage shows LPR troops displaying what appear to be Ukrainian uniforms and weapons.
In the footage, an LPR soldier says, "We occupied the Ukrainian positions, now we hold them, we occupied them with the 38th battalion, the 40th battalion and the Akhmat group."
They said their opponents did not put up much resistance and were forced to give up "positions, items, trophies, body armor, helmets and personal effects".
They added: "We caught up with them at Borovskoye and stayed in those positions, entrenching ourselves until the next offensive."
A spokesman for the LPR People's Militia added: "A unit of the LPR People's Militia has recaptured an important fortified position near the village of Borovskoye from the Ukrainian Nazis.
"The militants did not even try to defend themselves, abandoning their personal belongings and valuable foreign weapons, hastily retreating to residential areas, hiding behind civilians.
"The seriousness of these fortifications is inspiring: miles of trenches, machine gun emplacement, shelters to shelter from artillery fire, the Nazis were preparing for a long defense, but all this did not help against the decisive assault liberators.
"The liberation of the Lugansk region continues, the Ukrainian Nazis, who retreated to Borovskoye, condemn themselves to certain death, since Severodonetsk is under the control of the people's militia of the LPR and the allied forces, and there is no there is absolutely no chance of a successful attack."
Russian forces and pro-Russian separatists regularly refer to Ukrainian forces as "Nazis". Russia often invokes its stated mission as being to "denazify" Ukraine, despite President Volodymyr Zelensky being Jewish. Russian state media also repeatedly compares events in Ukraine to Russia's fight against the Nazis during World War II.
Russian troops invaded Ukraine on February 24 in what the Kremlin still calls a "special military operation." June 7 marks 104 days since the start of the campaign.
Zenger News has contacted Russian and Ukrainian officials for comment, but has not received a response at the time of writing.
From February 24 to June 6, the total combat losses of Russian troops amounted to about 31,250 men, according to the General Staff of the Armed Forces of Ukraine.
The Ukrainian military also claims that Russia lost 1,386 tanks, 3,400 armored fighting vehicles, 690 artillery systems, 207 multiple rocket launcher systems, 96 anti-aircraft systems, 211 combat aircraft, 176 helicopters, 2,395 motor vehicles and tankers, 13 ships, 551 unmanned aerial vehicles, 53 special equipment units and 125 cruise missiles.
Meanwhile, the Ukrainian Center for Strategic Communications (StratCom) said on Monday that Russian Major General Roman Kutuzov was killed in a battle near Popasna in the Luhansk region. This report was later confirmed by Russian state media.
The United Kingdom and the United States have announced that they will send long-range missile systems to Ukraine.
Russian President Vladimir Putin has warned of further attacks in Ukraine if the West sends in long-range weapons.
Russian missiles hit Kyiv on Sunday in the first assault on the Ukrainian capital in weeks.
Zelensky said Russian attacks on the towns of Severodonetsk and Lysychansk turned them into "ghost towns". But he added that Ukrainian forces could still hold Severodonetsk despite being outnumbered.
Russia's ambassador to the United Nations, Vassily Nebenzia, left a Security Council meeting on Monday after his country was accused by European Council President Charles Michel of triggering a global food crisis.
This story was provided to Newsweek by Zenger News.