Russian army vet demonstrates AK-47s to kindergarten class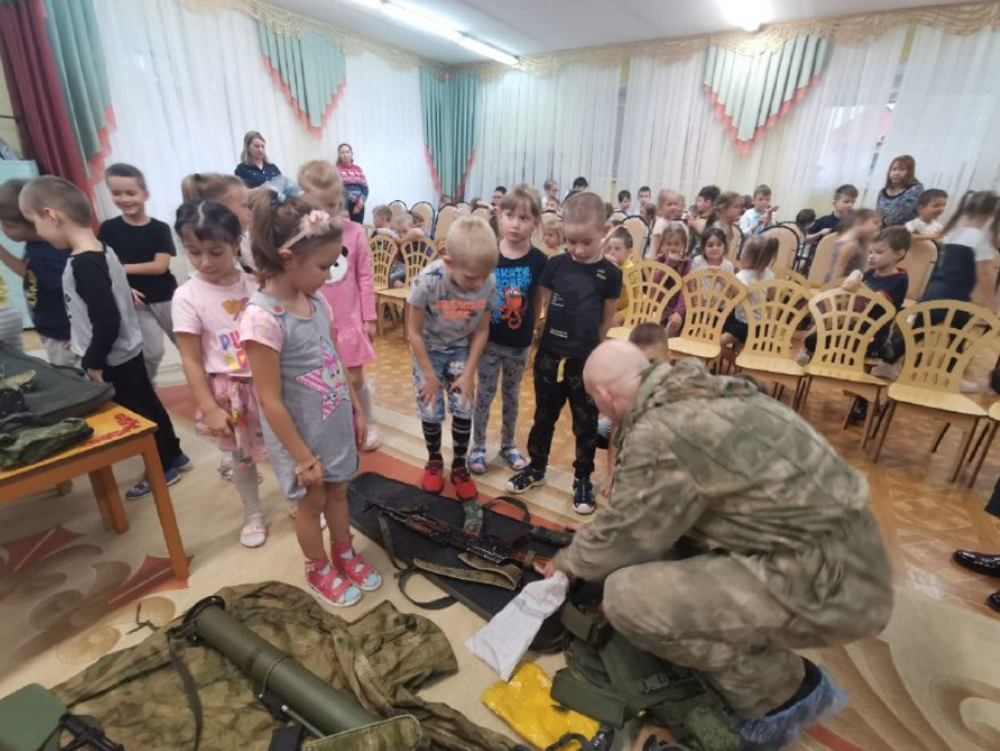 The lessons cover "the qualities that distinguish a true defender of the fatherland," a local official said in a now-deleted post.
Content of the article
It's not your typical show-and-tell. Footage taken at Kindergarten No. 31 in Korolyov, near Moscow, shows a fatigue-clad Russian veteran teaching children as young as four the ABCs of AK-47s and RPGs.
Content of the article
Photos and videos of the wartime lessons, which were posted on Telegram, have raised concerns online about the spread of pro-military propaganda among young children. The conference also comes as thousands of Russian soldiers died in Putin's failed invasion of Ukraine.
The officer addressing the class, Pavel Firsov, is a member of a pro-Putin Boyevoye Bratstvo (Combat Brotherhood) military group. As the children gather, Firsov can be seen demonstrating the use of the weapons, which are laid out on the carpet. Firsov often gives similar presentations to older children.
The lessons cover "the qualities that distinguish a true defender of the fatherland," local officials said in a now-deleted article, The Times reported. Parents and teachers were surprised by what was happening, according to the publication.
The leader of the Russian mobilization against Ukraine is the last to die in "suspicious" circumstances

With cooperation with Russia in the Arctic now 'virtually impossible', Canada and its allies are reassessing their strategy for the North
Russian commentators were divided on the issue, with some reacting with dismay and others howling their approval.
"Did I understand correctly that a fighter brought a machine gun and a flamethrower to the kindergarten?" asked a commentator.
But it prompted another to reply: "It's better for a fighter who wishes children well to bring a machine gun and a flamethrower to kindergarten than a terrorist."
Content of the article
"In my childhood at school, someone's grandfather with noble gray hair came adorned with medals and told us that war is scary, with pain and tears," recalled a worried commentator.
"We were told how wonderful victory was and how to cherish world peace. I don't remember a word about weapons"
"Now happy Russian kids are being told how and what to use to kill the bad guys. Feel the difference," they added.
One person backed the lessons, saying the boys would become 'cowardly men' if they didn't learn to use guns.
Another person added: "Girls probably won't be interested, but boys — 100%. We have become too sweet and pampered as evidenced by so many outraged comments.
Officials said the weapons were display models and could not be fired. In Russia, children leave kindergarten and enter primary school at the age of 7.