Russian-Calgarians feel the backlash of war in Ukraine
"Most of us have Ukrainian parents…we don't make any difference between Ukrainians and Russians," the father said. Dmitri Grygoriev
Content of the article
Prof. Dmitry Grygoryev was relaxing in British Columbia, taking a break from the pressures of running a Russian Orthodox church in Calgary and the threats posed by Moscow's invasion of Ukraine.
Content of the article
"It's been a very difficult week," said Grygoryev, who chairs All Saints Russian Orthodox Church in the city's northeast.
Content of the article
A week earlier, he had answered a series of phone calls from a man he said had threatened his congregation with death, presumably in response to increased Russian attacks on Ukrainian towns.
"When we spoke with him, he was very excited," Grygoryev said.
Shortly after reporting the incident to police, a 36-year-old man was arrested and charged with five counts of stalking which the CPS considers hate crimes.
Police said there was a marked increase in hate crimes against Calgarians of Russian and Ukrainian descent after the war began in February.
It was not the first time he had surrendered to the police since the beginning of the war. Shortly after Russia launched its all-out invasion last February, the door to its church was splattered with red paint.
Content of the article
Police said they were investigating the incidents as possible hate crimes. Grygoryev said he never had to seek help from the police and certainly not from the CPS hate crimes unit – until this year.
And he said that when the current war started, his parishioners, 30 percent of whom are of Ukrainian descent, immediately felt the pressure.
"People were crying at confessions, they were frozen," he said.
"We spent sleepless nights… we didn't expect (total) war, we thought that at worst, (the Russian army) would only go to Donetsk or Luhansk."
Shortly after the war began, he said members of Calgary's Ukrainian community and their supporters demonstrated outside his church on Easter Sunday, an act the cleric called inappropriate.
Content of the article
"How is the church involved in (the war) – it's not just Easter Sunday, they should do it at the embassy or the town hall," Grygoryev said, adding that he was from from central Ukraine.
"We try not to get angry with what's going on and try to keep the peace in the community."
The head of his church, Patriarch Kirill, is well known for his outspoken support for the Russian invasion, saying those who die fighting will be "washed clean of their sins".
Despite the clearly public statements, Grygoryev denies that Kirill ever showed support for the war.
Content of the article
And he won't condemn Russia's role in it, saying it's a tragedy for everyone involved.
"Innocent people are getting killed, people on both sides…it's not as simple as social media or other media wants you to believe," Grygoryev said.
"I try not to get involved in politics, the best weapon we have to stop this war is our prayers."
The priest said he was hosting two Ukrainian families who fled the war and some of his 400 parishioners were doing the same.
"Most of us have Ukrainian parents…we don't make any difference between Ukrainians and Russians," he said.
Like Grygoryev, Calgarian Victor Safronov has Ukrainian and Russian parents – a fairly common heritage from a Soviet Union that once bound the two countries.
Content of the article
Due to the name of the grocery store he operates – Yummy Russia – Safronov said he received threatening calls soon after the full Russian invasion and noticed hateful rhetoric against Russians on social media.
"I called the police and their response was immediate," Safronov said, adding that he employed two people who had recently arrived from Ukraine.
He said police told him they made an arrest soon after, with Safronov calling it "one angry guy".
Sales of his company, which offers a wide selection of food products from many European and ex-Soviet countries, have not suffered much from the war, although some items imported from Russia and Ukraine have been more difficult. to find, he said.
The man who hails from the former Soviet republic of Kazakhstan and has been a Canadian citizen for 22 years wondered why people would bring conflicts overseas here.
Content of the article
"It's very difficult to understand," Safronov said.
He said he did not trust Western media coverage of the war, insisting that "time will tell who was right or wrong".
Much of the divide is fueled by a "Russian narrative of disinformation that has been deeply rooted for years, you have a machine running on this narrative all the time," said Orysia Boychuk, President of the Ukrainian Canadian Congress, Provincial Council from Alberta. .
Most disagreements simmer below the surface, Boychuk said.
"Either you're a pro-Putin supporter or you're not and if you're not, we all get along – we work closely with many Russian communities," she said.
"For the most part (the pro-Putin people) kept a low profile."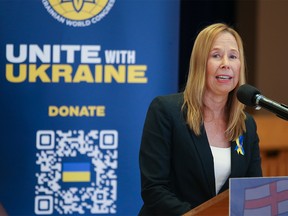 Some Ukrainian-Canadians in Calgary told this reporter that they have become estranged from friends and relatives of Russian descent who they say strongly believe in Moscow's propaganda on the conflict.
Content of the article
Similar hostility existed in Alberta between Croatian and Serb communities during the wars of the 1990s that fragmented Yugoslavia.
Both Grygoryev and Boychuk said these schisms were deepening due to emotional pressures from the war that killed tens of thousands of combatants and civilians – the vast majority of them latter Ukrainians.
But sometimes that hostility surfaces with some directed at her community, she said, including when Edmonton Oilers fans were assaulted in downtown Edmonton last March for showing their Ukrainian identity.
And Boychuk noted that the parsonage next to a Ukrainian Catholic church in Victoria was the target of an arson attack last April and was being investigated as a possible hate crime.
Grygoryev said the war could not end soon enough, given the suffering in Ukraine and the divisions in the country.
"We are trying to pray for peace and unity between Russia and Ukraine," he said.
Twitter: @BillKaufmannjrn