Russian Su-35 plane withdraws from dogfight with Ukrainian plane, Kyiv says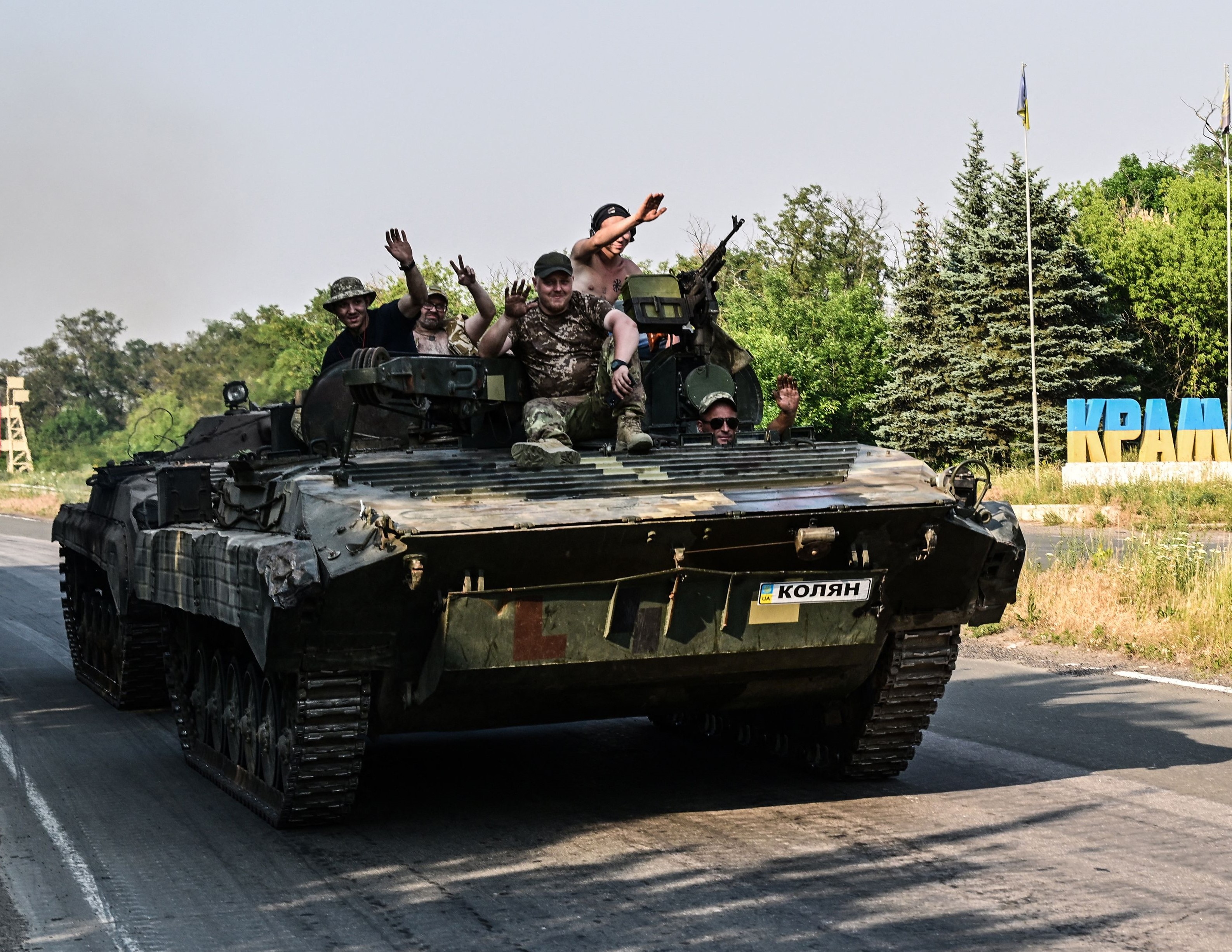 Ukrainian and Russian fighter jets reportedly clashed before the plane piloted by Moscow forces decided to retreat.
The aerial combat took place as the Russian military continued its air and missile strikes targeting settlements in the Odessa region, Ukrainian media Ukrinform reported on Thursday.
A Russian fighter jet on Wednesday fired two cruise missiles at Ukrainian planes, which were not damaged, and the Russian Sukhoi Su-35 plane "was forced to leave the service area in the air and beat in retreat," according to the report, which also claimed Kyiv forces had intercepted a missile fired at the Black Sea port city.
The Ukrainian claims are unverified and Newsweek has contacted the Russian Defense Ministry for comment.
The aerial battle took place as fierce fighting in the Mykolaiv and Kherson regions continued, Ukrinform said, adding that Ukrainian artillery and rocket aviation units attacked Russian positions there.
Ukraine also said Russian forces shelled the village of Lymany in the Mykolaiv region, damaging a kindergarten and the community administration building, although no casualties were reported. These claims are also unverified.
The US think tank Institute for the Study of War (ISW) said on Wednesday there had been no claimed or assessed Russian territorial gains in Ukraine for the first time in 133 days of war. This supported the ISW's assessment that "Russian forces have largely entered an operational pause".
However, Russia is likely to mount an offensive towards Sloviansk, in the Donetsk region, according to the head of the city's military administration, Vadym Liakh. He said Wednesday that Ukrainian forces were holding Moscow's armies on the Siverskyi Donets River, CNN reported.
The UK Ministry of Defense has released an assessment that Russia is likely to continue to consolidate its control over the town of Lysychansk after it fell to Moscow forces.
British defense officials said Thursday that heavy shelling had continued along the Donetsk front line, "but with little progress from Russia, Russian units involved in the gains of the last week are probably recovering".
The British Ministry of Defense also noted that a law proposed by the Russian government to put in place "special economic measures" was intended to support Moscow's war effort "without a formal declaration of mobilization by the remaining state. politically sensitive.
Ukraine still controls 45% of Donetsk, but after taking control of Lysychansk, Russian forces are now pushing towards Kramatorsk and Sloviansk. The head of the regional military administration, Pavlo Kyrylenko, urged civilians still in the Donetsk region to evacuate.