Ukraine-Russia: A Scottish student receives an essay on Russian foreign policy and heads for the Ukrainian border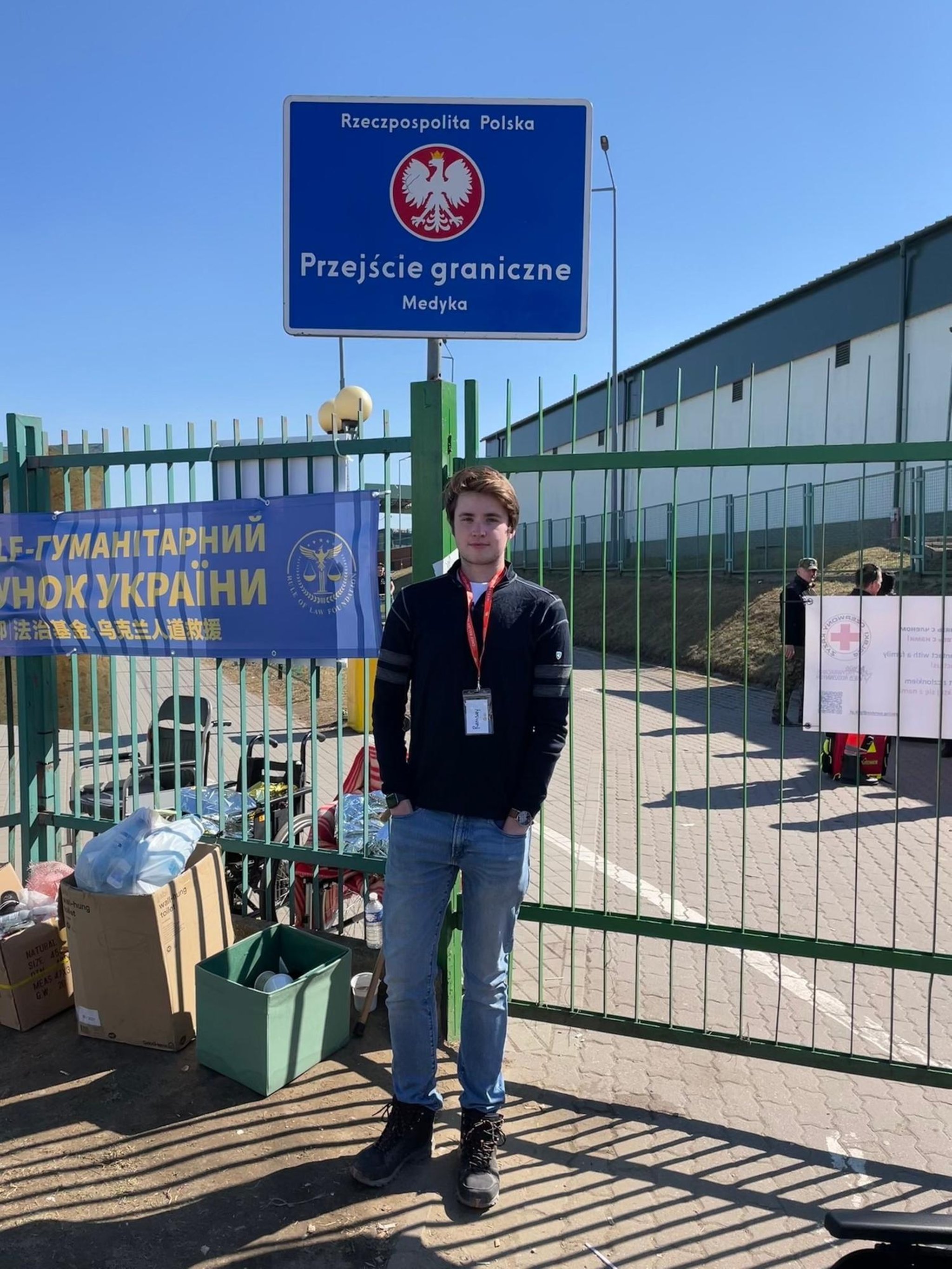 Today he is putting the finishing touches on his final freshman essay on Russian foreign policy – ​​less than a week after returning from the Polish-Ukrainian border, where he volunteered to help refugees fleeing the Russian attacks on Ukraine.
"When they distributed the module booklet in January, the topic of the essay was something like 'describe the reason for Russia's increasingly assertive foreign policy over the past 20 years,'" he says. "When we talked about Ukraine and Russia in class before I left, it was kind of like a concept, something more distant. I had no idea then how important it would be to me.
Mr Bader, 19, who is studying international relations at the University of Fife, has returned to Scotland for a few days to complete his end-of-year essays and take an exam – before returning to Poland next week.
St Andrews student Ramsay Bader helped Ukrainian refugees at the Polish border.
A few days after the outbreak of war, he was contacted by a Polish friend he knew from his native New York, who told him that his family was traveling to the border in the village of Medyka, to volunteer for help the refugees who were pouring into Poland. The UN's refugee arm, UNHCR, estimates around two million refugees have fled to Poland since war broke out in February.
Read more
Read more
Ukraine-Russia: "I said to my daughter: 'It looks like dad is dead', says the Ukrainian…
He says: "They had everything set up and basically texted me 'Hey, wanna come with me?' then 48 hours later I was on a plane to Krakow.
"It was very surreal, partly because it really drove me home how close it was. It was a three hour flight and then I drove for two hours and was at the Ukrainian border.
He has volunteered with two charities – the food organization World Central Kitchen and another NGO, Ukraine Take Shelter. One of them provided suitcases to refugees who had been forced to flee their homes with next to nothing, while it also distributed thermal blankets in freezing conditions.
"Coming to the border post it doesn't really hit you because it looks like something straight out of the BBC, it looks like one of those five second clips they would play before they talk about a story We got to the border crossing and we literally jumped a barbed wire fence to love, got into the place where all the aid organizations had set up their tents, and then we were just there working, right off the bat. there was no time to stop. We stopped and the [other aid workers] were like, 'Okay, get the suitcases. Were going'.
"It's interesting, the feeling of driving through most of Poland is that it seems so normal. You can definitely see the signs of it. But it's really not until you get there. at the border post itself, where there's this feeling maybe not chaos, but just that it's hectic and there's really a surreal feeling in the air. It's not like s "It was about these huge refugee camps set up, which go on for miles and miles. It seemed at least relatively systematic. They have these big refugee centers set up in what are basically shopping malls."
Like most students his age, Mr Bader had barely boiled an egg before – but learned quickly. World Central Kitchen prepares hot meals for refugees.
"I did a huge hodgepodge of stuff when I was there, basically everything I could do," he says. "Sometimes it was a whole day of peeling potatoes for 12 hours or stirring hot chocolate."
Many families entering Poland – some with young children or other vulnerable family members – had faced long waits at the border crossing.
"Food is essential, because at that time they come and they have nothing," he says. "For these people, just hot food and fuel and just being able to sit down was a really big challenge for us in the kitchen, we didn't know what we were going to get each day basically – we had to work with the food and supplies we had. It's not like there's a fully organized supply chain.
He crossed the border daily to distribute groceries in a supermarket trolley, then lined up with refugee families to help transport their belongings to Poland using the trolley.
"We bought hundreds of suitcases in bulk from a small Polish warehouse just outside of town, and loaded them into a van and just distributed them," he says. "A lot of people crossing the border basically only have grocery bags to put their things in, you literally see people crossing carrying whatever they can carry in grocery bags. This is one of the things you definitely don't consider until you get there. When you think of humanitarian aid, you obviously think of food, water and shelter, but there are so many other factors when it comes to making sure everyone ends up well.
During his stay in Poland, Mr. Bader managed to remotely call a few conferences.
"I had an essay due yesterday and one due today, then I have a test this week," he says. "But I was literally working across the border on Tuesday morning and back in St Andrews late afternoon. It was definitely the weirdest feeling to leave this very intense and surreal place, to go back to Scotland, to St Andrews and back to my dorm.
A message from the editor:
Thank you for reading this article. We are counting on your support more than ever, as the change in consumption habits caused by the coronavirus has an impact on our advertisers.
If you haven't already, consider supporting our trusted and verified journalism by signing up for a digital subscription.