Ukrainian War: Moscow joins the grain agreement; Russian missile strikes continue; and UK sanctions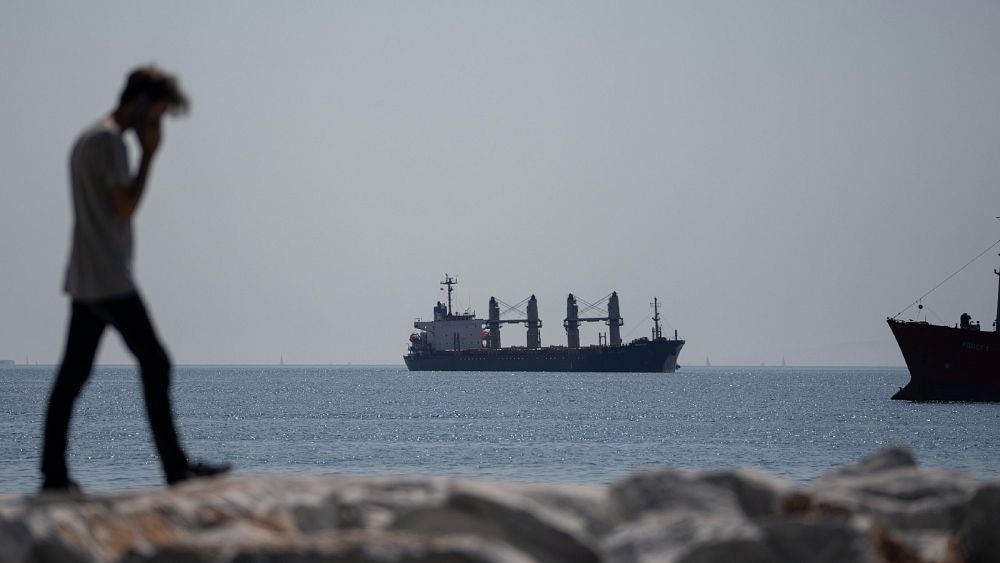 Here are the latest developments in the news of Russia's war in Ukraine.
1. Russia renews UN grain deal after four days of abrupt reversal
Russia has flip-flopped and once again agreed to allow millions of tonnes of Ukrainian grain to be safely shipped through the Black Sea.
Russian Defense Minister Sergei Shoigu told his Turkish counterpart on Wednesday that Moscow had agreed to return to the deal brokered by Turkey and the UN.
In a statement, the ministry later confirmed that Ukraine had pledged not to use a designated Black Sea corridor to attack Russian forces.
"The Russian Federation considers that the guarantees received at the moment seem sufficient and is resuming the implementation of the agreement," the ministry statement said.
Moscow had suspended its participation in the grain deal over the weekend, citing allegations of a Ukrainian drone attack on its Black Sea fleet.
The MoD also said it would summon the UK's ambassador to Moscow, saying "British specialists" were involved in the Crimea drone attack. Ukraine has not claimed responsibility for the attack and Britain has denied any involvement.
The Russian Defense Ministry said on Monday that "unacceptable" maritime traffic from ports in southern Ukraine had been halted. Vessels loaded with grain left Ukraine on Tuesday despite Russia's absence from the deal.
Turkish President Recep Tayyip Erdogan said Moscow had informed Ankara that the grain corridor deal "would continue in the same way as before".
Erdogan said on Wednesday that the deal would prioritize the shipment of essential foodstuffs to African countries, including Somalia, Djibouti and Sudan.
UN humanitarian chief Martin Griffiths said 23% of total goods exported from Ukraine under the grain deal were destined for low- and low-middle income countries.
But the United Nations had said the ships would not move on Wednesday, raising concerns about future shipments.
UN Secretary-General Antonio Guterres welcomed Russia's resumption of participation in the deal, spokesman Stephane Dujarric said.
"The Secretary-General continues his engagement with all actors for the renewal and full implementation of the Initiative, and he also remains committed to removing remaining barriers to Russian food and fertilizer exports," said said Dujarric on Wednesday.
But Russian President Vladimir Putin reiterated that Moscow "reserves the right" to rescind the deal if Kyiv "violates [their] guarantees".
2. Ukrainian President Zelensky calls on Europe to remain united
Ukrainian President Volodymyr Zelenskyy has urged European allies to stick together through the winter months to help his country.
In an address on Tuesday evening, Zelenskyy called on Europe to frustrate Russia's bet on winter.
"Moscow will present all winter hardships in its propaganda as so-called proof of the failure of a united Europe," Zelenskyy said, stressing that failure was not an option.
Speaking about electricity in Ukraine, Zelenskyy said planned outages were still possible to protect the system in nine regions.
Thousands of homes in the Kyiv region and elsewhere were left without power as Russian drone and artillery strikes continued to target Ukraine's energy infrastructure.
"From this moment we can report that the technical possibility of water supply has already been restored for all consumers in Ukraine.
"For the majority, there is also the technical possibility of providing electricity."
The president said he would do everything in his power to ensure that Ukrainians have access to heat and electricity this winter.
"But we must understand that Russia will do anything to destroy the normalcy of life."
Zelenskyy said Russia was also paying a price for targeting Ukraine's energy and water infrastructure, saying Monday's missile and drone strikes "cost Russia the equivalent of more than $2.3 million average pensions of Russian seniors".
"Instead of overcoming poverty in their country, Russian leaders are spending everything to avoid admitting what a historic mistake they made with this war against Ukraine," Zelenskyy said.
3. Russian missile strikes continue across Ukraine
Continued Russian shelling in nine regions of southern and eastern Ukraine killed at least four civilians and injured 17 others between Tuesday and Wednesday, according to Zelenskyy's office.
Shelling also pounded towns and villages recaptured by Ukraine last month in the northeastern Kharkiv region, injuring seven people.
A Russian fire damaged a hospital and apartment buildings in the city of Toretsk, Donetsk region, according to the region's governor.
Ukrainian officials said on Wednesday that Ukrainian and Russian forces continued to fight for control of the towns of Avdiivka and Bakhmut.
Power outages were also reported in the southern towns of Nikopol and Chervonohryhorivka following "a large-scale drone attack", Dnipropetrovsk Governor Valentyn Reznichenko said.
Both cities are located across the Dnieper River from the Zaporizhzhia Nuclear Power Plant, the largest nuclear facility in Europe.
Russia and Ukraine have for months swapped responsibility for the bombardment around the plant, which the UN nuclear watchdog has warned could cause a radiological emergency.
4. The United States expresses concern over Russia's nuclear risk
The White House said Wednesday that the United States was "increasingly concerned" about a possible Russian nuclear strike on Ukraine.
The New York Times reports that Russia's top military leaders have had conversations about when and how Moscow might use a tactical nuclear weapon in Ukraine and underscores the heightened concern of the United States and its allies, according to several senior officials. Americans.
At the White House on Wednesday, John Kirby, spokesman for the National Security Council, said: "We have yet to see any indication that the Russians are preparing for such use… But all of this concerns us deeply.
"We have become more and more concerned about the potential over these months," Kirby added.
Russian President Vladimir Putin recently denied intending to use nuclear weapons in Ukraine, but described the conflict there as part of the West's alleged efforts to secure its global dominance, which he said are doomed to failure.
Speaking last month at a conference of international foreign policy experts, Putin said there was no point in Russia hitting Ukraine with nuclear weapons.
Putin said an earlier warning that he was ready to use "all available means to protect Russia" did not constitute nuclear slur, but was merely a response to Western statements about their possible use of nuclear weapons.
Kirby told reporters, "we have maintained, I believe, an appropriate level of concern regarding the potential use of weapons of mass destruction in Ukraine to include nuclear weapons."
On Wednesday, the NSC spokesman also accused North Korea of ​​secretly shipping a "significant number" of artillery shells to Russia to support its invasion of Ukraine.
5. UK sanctions four more Russian oligarchs
The British government has sanctioned four other Russian oligarchs, including the former head of steel producer Evraz.
Among those sanctioned are Alexander Abramov and Alexander Frolov, who are described as known associates of oligarch and former Chelsea owner Roman Abramovich.
They have been targeted for their involvement in the transport and construction sectors, the UK government has said.
Evraz was also sanctioned by Britain for operating in sectors "of strategic importance to the Russian government".
"Today we are sanctioning four more oligarchs who lean on Putin for their positions of authority and in turn fund his military machine," British Foreign Secretary James Cleverly said on Wednesday.
"By targeting these individuals, we are increasing economic pressure on Putin and we will continue to do so until Ukraine wins."
The sanctions implemented include travel bans, asset freezes and transportation sanctions, the foreign ministry said.
6. Switzerland imposes sanctions on Iranian drone deliveries to Russia
Switzerland has decided to adopt European Union sanctions on the delivery of Iranian drones to Russia, the government said in a statement on Wednesday.
However, the economic and foreign affairs departments have decided not to adopt EU sanctions imposed on Iran amid the current protests, he added.
"The decision was taken taking into account all of Switzerland's domestic and foreign policy interests," he said.